Steffan Heerdt
Culinary Journey to Miyagi Prefecture <Part 1>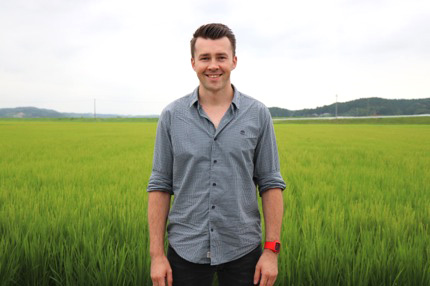 Greetings from Park Hyatt Tokyo.
In early August, I had the great pleasure to visit Miyagi Prefecture to meet with local producers of the area who supply their ingredients to Park Hyatt Tokyo.
As soon as I arrived at Sendai station, I was driven to the Sendai beef market to meet with our suppliers and witnessed a live auction. I didn't realize that there are a total of 20,000 cows from Miyagi Prefecture! I learned during the tour of the Sendai beef market that the premium Sendai-gyu brand is always an A5 grade and out of the 7,300 A5 grade cows from last year, 3,863 of them were from Sendai.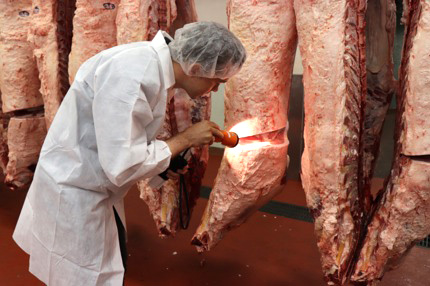 I was also told that the Wagyu Olympics was to take place in September of this year. It is held every 5 years and farmers, suppliers and buyers gather there to learn new information on breeding methods and on any modifications to the genetic wagyu seed. There are 2 genetic seeds; one to produce quantity and the other for high quality beef. The seeds are regulated by the government and cannot be used for breeding overseas, making it so that Japanese wagyu is exclusive to Japan.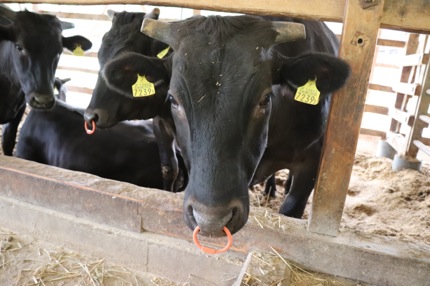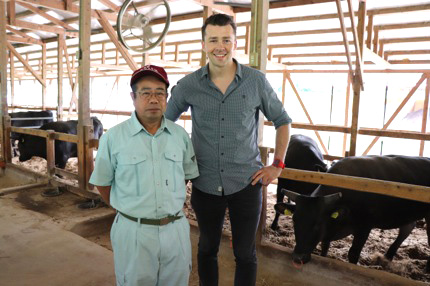 We later went to the wagyu cow farm with our suppliers and met with the farmer and my new friend nicknamed, Kuma-san. Kuma in Japanese means bear. Kuma-san really takes good care of his cows and told me that each cow eats 1 kilogram of fermented rice, which is less oily than regular rice, a day. He said that he purchases the cows when they are 10 months old and raises them until they are 2 and a half years old. They are usually slaughtered when they reach 800 kilograms. It was fascinating to see the Sendai wagyu cows in real life but I could not help but feel bad about talking about the end of their life in front of them as they were very friendly and peaceful.
Later that day I went to meet Mr. Hoshi and his wife who own the seaweed company, HOSHI NORI that has been in business for 55 years. This seaweed is rated very highly on the grading system and has been recognized by the Emperor of Japan. Seaweed is graded by color, thickness and shine.
Mr. Hoshi is the third generation President of HOSHI NORI and is still committed to the traditional practices and farms the seaweed under water from the ocean floor. Every August, he ties oysters and baby seaweed seeds on nets and throws them into the ocean. Then in November, he drags out the nets to dry until the seaweed fully develops. The seaweed is also not washed in chemicals after the harvest unlike other seaweed.
Mr. Hoshi's seaweed was delicious and it has previously been supplied to our Japanese restaurant Kozue. I hope that I have the opportunity to include it in my menus sometime soon.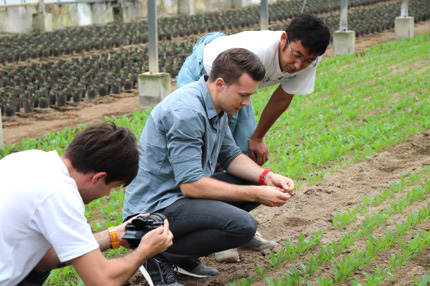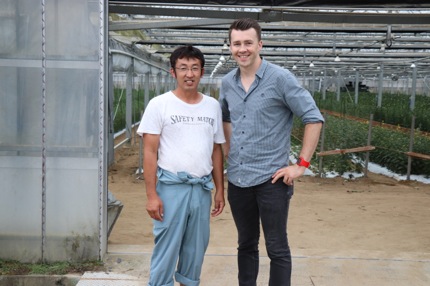 After this I went to Marusen Farm to meet with Mr. Chiba, a vegetable farmer. He kindly showed me around his farm and greenhouses. Marusen Farm is famous for their tomatoes and their very expensive tomato juice however as we missed the harvest time, I was not able to taste any of his tomatoes. I was very lucky to have been able to taste his tomato juice that is 10,000 yen a bottle!
Next, I had the pleasure of travelling to a Meiho Fishery, a MSC sustainable bonito fishery port and processing factory and met with the CEO, Mr. Matsunaga. Meiho Fishery was established in 2012 and is in Shiogama-city and was the third fishery in Japan to achieve MSC certification in 2016.
First, he gave me a tour of the bonito processing factory then of his fishing boat. All of the bonito are line-caught and he showed me their fishing rods and demonstrated how they catch them by flinging the fish behind them on the boat after they latch on to the hook.
Mr. Matsunaga founded the company after the damage caused by the Eastern Japan Great Earthquake in March 2011, which resulted in a shortage of skipjack tuna entering the local market. Today, Meiho has two pole-and-line fishing boats that catch a combined 3,000 metric tons of skipjack and albacore tuna a year.
Mr. Matsunaga first learned about MSC certification 10 years ago as he was aware the fisheries industry was in danger and was not regulated responsibly. He said that the merit of being MSC certified was that his company became famous through press and media and they created awareness about our endangered waters.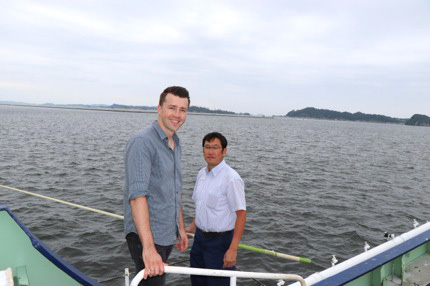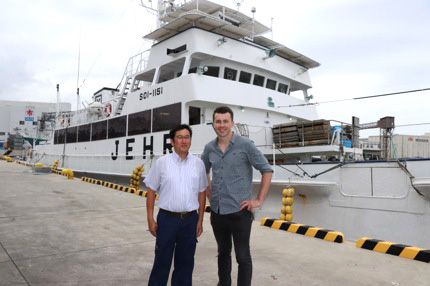 After this visit, I was pretty tired from a full day of meetings but had an amazing dinner at a local restaurant by the hotel in Ishinomaki called IMAMURA. I was able to eat the fresh seafood from Miyagi Prefecture and paired it with the local sake. It was an early night though, as I had to wake up at 5 am to go to Ishinomaki Port the next morning.
I look forward to using the Sendai wagyu sirloin and line-caught bonito in the upcoming Miyagi promotional menu at New York Grill from October 16th until the 22nd.
Stay tuned for Part 2 of my blog that I will post next week during this very special promotion!
Steffan Heerdt
Chef de Cuisine, New York Grill & Bar