Staff
Wine Selection at New York Grill & Bar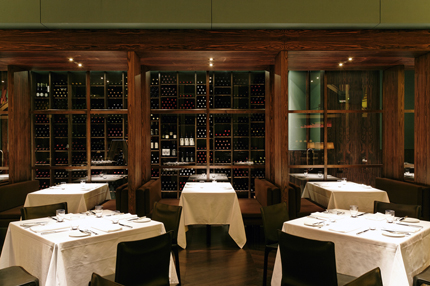 At New York Grill & Bar, we currently serve more than 300 US wines on our wine list with over 1,800 bottles in the cellar. I cordially invite you to try one these wines at New York Grill & Bar and it would be my pleasure to speak to you about the history and region of these wines in person. I have shared many conversations through my time in restaurants, and all led to the understanding that a great wine must always reflect its time and its region. A grape varietal can show a different character or quality when grown in a different region with a different climate. But the craftsmanship that creates wine deserves the highest appreciation. A wine that reflects a harmony of tannins, acidity and sweetness even after more than three decades deserves ovation – no matter of which origin.
How to relate all this to our guest experience? Our passion is to combine product knowledge and service skills, hereby crafting an exceptional guest experience.
Most of our guests are educated about old world wines. But over the past decades, the USA has grown a reputation for beautiful wines that can surprise with their high quality level. Napa Valley is without a doubt the most famous wine growing region in the USA, but California has so many more different areas to consider, all with different climate and character. Wine regions range from North to South over the Central Coast including the Sonoma Coast or Valley, the Russian River Valley, the Alexander Valley and many more.
There are also other wine growing regions besides California, revealing amazing quality in different varietals such as Pinot Noirs from Oregon with a resemblance to Red Burgundy or even Chardonnays from Washington that take after Chablis wines. One of my personal revelations is US Rieslings from New York Estate such as from Hermann J. Wiemar Vineyard or from Keuka Lake Vineyards. Please allow me to highlight that I grew up in the Rheingau region in Germany, which is famous for high quality Riesling!
Creating an experience is therefore also about the enthusiasm that we can bring to the table, relating a wine to our own experience and pairing this with our knowledge of US wines.
We look forward to welcoming you to New York Grill & Bar.
Moritz Kam