Mark De Leeuwerk
Masters of Food and Wine:
Katsunuma Winery Excursion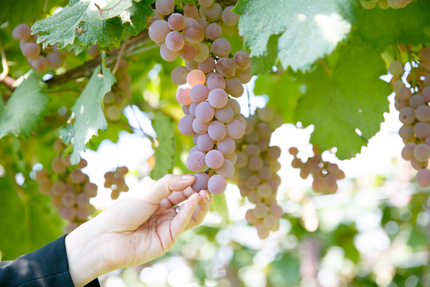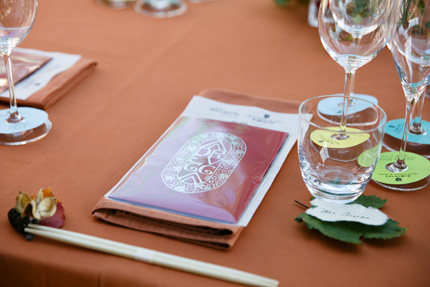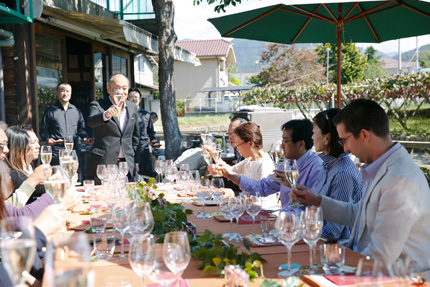 As harvest time approaches in the wineries all over the world, including right here in Japan, the Food & Beverage team at Park Hyatt Tokyo gets ready for the most anticipated trip of the year. Our upcoming Masters of Food & Wine – Katsunuma Winery Excursion event has taken place for the past 4 years in Yamanashi Prefecture, the koshu wine region of Japan.
This September, a group of 18 guests will be able to take part in the traditional method of wine-stomping, also known as pigeage, as well as get involved in the sparkling wine bottling process. Guests will also enjoy a winery tour and sample juices at the different stages of fermentation. The highlight of the trip is a wonderful barbeque lunch prepared by our chefs from Park Hyatt Tokyo at Chateau Aruga hosted by the winery owner.
The wines at Katsunuma winery have won many prestigious awards in wine competitions and as a result, koshu wine is gaining worldwide attention. Koshu grape seeds are now being planted in Europe and koshu wines are now in the process of being produced overseas.
The koshu grape has a 1,200 year history and the vintners at Katsunuma winery are dedicated in maintaining the natural conditions of the environment in their region, so that future generations can continue using the traditional methods of harvesting grapes.
The traditional viniculture method of Japan that is used in Yamanashi Prefecture is called "Tanashiki-saibai." The vine branches are on overhead frames with grapes hanging above. This process spaces out the vines much more widely than the ones in European vineyards, which avoids damage to the grapes in Japan's hot and humid climate. Only one to three grape trees are planted in one area so that the nutrients from the soil are concentrated on those few trees, allowing the grapes to taste delightfully sweet.
Italian and French winemakers are often surprised when learning that wine production occurs in an area such as Katsunuma, where the summer climate is hot and humid and the winters are very cold. However, the region is a perfect breeding ground for koshu grapes. Katsunuma is located in a valley where it enjoys long hours of sunlight and very little rain.
I would like to cordially invite you to experience this special outing to the wine region of Yamanashi Prefecture so that you can indulge in Japan's finest koshu wine this coming September. With limited seats available, I would advise to book soon!
Mark de Leeuwerk,
Executive Assistant Manager
Masters of Food and Wine: Katsunuma Winery Excursion
Date: Wednesday, 13 September 2017
Time:
7 a.m. meeting time at 2F main entrance of Park Hyatt Tokyo.
6 p.m. estimated return time back to Park Hyatt Tokyo.
Price: 30,000 yen (including tax) per person.