Koichi Yoneda
Shizuoka Mangoes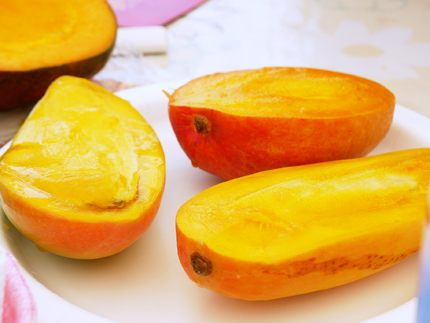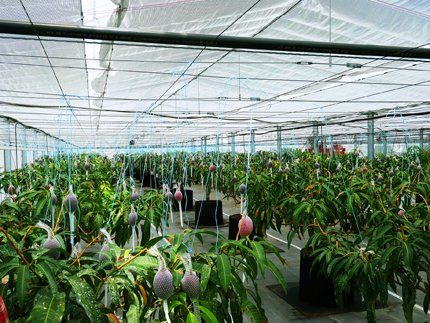 Greetings from Park Hyatt Tokyo, I am the Executive Sous Chef Koichi Yoneda.
In mid-July, Chef de Cuisine of New York Grill Steffan Heerdt, Executive Pastry Chef Pascal Cialdella and I visited Ebisu Sanro Shouten mango farm in Fujieda, Shizuoka Prefecture. The farm is a joint partnership run by both Mr. Maeichioka-san and Mr. Nagasawa where they harvest 10 different kinds of mango.
Mr. Maechioka had been in the farming business for many years in Brazil but decided to return to Japan five years ago to find farm land where he could profit from. Mr. Nagasawa just received a Master's degree in Agricultural Business at Shizuoka University this March and is a very young farmer. It was Mr. Nagasawa who came up with the idea to harvest mangos and together with Mr. Maechioka, discovered the farm in Saenan-cho, Fujieda where they decided to move forward with the project.
With the support of the construction division of the manufacturing company, Ryokusan and the city government of Fujieda, the two of them then visited Kinki University and various farms to learn more about harvesting and creating the ideal mango. In order to access mineral-rich riverbed water, they dug an exclusive well and built a special mango greenhouse.
The upside to the land is that it receives plenty of sunlight and the considerable temperature difference from day to night improves the mango harvest. Protected by the cycle of Mother Nature, the picking season is at an opportune time and they use very little pesticide and fertilizer. This has all contributed greatly to the success in harvesting healthy mangoes in a stress-free environment.
In order to nurture the mango growing process, special measures are used during the delicate initial stages. For example, the amount of water used depends on the season and the timing of it is adjusted appropriately. In order to maintain the cleanliness of the mango, there is limited access into the mango house and the pesticide is strictly controlled.
Although there are over 600 different types of mangoes around the world, 98 per cent of the mangoes harvested in Japan are of the Irwin varietal and they are mostly grown in Miyazaki and Okinawa.
The best harvest season for mangoes is in July or August however Mr. Maeichioka and Mr. Nagasawa start preparing for harvest in April in order to meet demand. It was a difficult period of trial and error for them however they have finally succeeded in growing their ideal mango that will became available for sale on July 20th this year.
The 10 different mangoes that they harvest are the following: Irwin (Apple & Mango), Namdorkmai (Thai), Mahachanok (Thai), Kent (USA), Jill Passanth (India), Gyokubun (Japan), Kinko (Japan), Red Kinko (Japan), Keitt (Australia) and Red Keitt (Australia).
The taste of these mangos is extraordinary with each variety having its own special characteristics. When fully ripened, they have a powerful aroma with a rich sweetness in every bite and are not like any average mango. All the chefs and I were amazed at the flavor each mango brought to the palette.
We are all looking forward to having these mangoes grown by Mr. Maeichioka and Mr. Nagasawa available at Park Hyatt Tokyo for all of our guests to enjoy.