Staff
Fist City Beer
By Takahiro Konno, Assistant Manager of New York Grill & Bar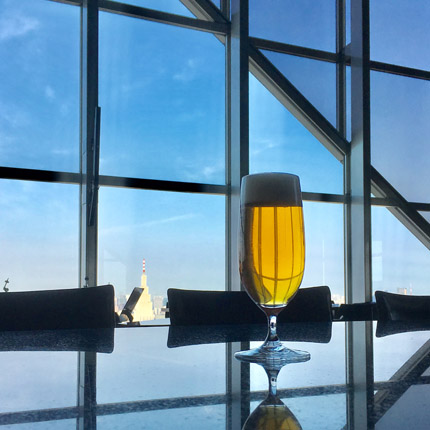 Greetings from New York Grill & Bar, I am Takahiro Konno, the Assistant Manager.
I would like to introduce a new craft beer that we have been serving from last month called "Fist City".
Established in Chicago, Revolution Brewing has a short history in comparison to other breweries. However, their persistent brewing methods and innovative evolution have caught the attention of many beer lovers. "Fist City" is the very first Chicago Pale Ale ever brewed and is blended with Centennial, Citra, Chinook, Cascade and Crystal hops. With its citrus aroma, smooth, light body and refreshingly bitter finish, it is an incredibly drinkable beer that is perfect for summer time.
The herbal and citrus aroma of "Fist City" complements food very well and can be paired with food items in the same way wine does. In recent years, beer-pairing has become an increasingly popular trend. I would recommend that you pair this special pale ale with Japanese Beef Cheek Pastrami from the New York Grill a la carte dinner menu and with Octopus and Seabass Ceviche from the New York Bar snack menu.
I look forward to welcoming you to savor the stimulating hops of this extremely satisfying Chicago Pale Ale while enjoying the breathtaking panoramic view of the Tokyo city skyline at the 52nd floor New York Grill & Bar this summer.