Staff
Katsuyama Brewery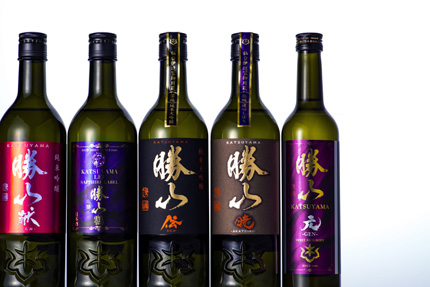 Greetings! I am Hitoshi Tanabe, Sake Sommelier and Assistant Manager of Park Hyatt Tokyo's signature Japanese kaiseki restaurant, Kozue.
I would like to introduce the sake selection from Katsuyama Brewery that will be featured during our Masters of Food & Wine sake promotion month from March 25th until April 24th at Park Hyatt Tokyo.
Katsuyama Brewery, located in Sendai, Miyagi Prefecture, was established over 320 years during the Edo period. During the Meiji period, the brewery opened the Shozan-kan, which was a guest house used for garden parties, calligraphy and painting exhibits for the residents of Sendai, as well as being a famous entertainment facility for social events amongst the elite and celebrities. Every time a member of the Imperial family came to Sendai, they would stay at the Shozan-kan and the role of the brewery would be to provide them with the best sake and cuisine.
Recently Katsuyama Brewery moved from the Shozan-kan area and relocated to the base area of Izumigatake Spring Valley, where the water is sourced to make sake in Sendai. This resulted in them producing one tank of sake, which is 20 per cent of the amount from their prime period. Their meticulous approach in brewing more fastidious and high quality sake is through the centrifugation method, which filters the sake and extracts it at a low temperature without any contact of air.
The 'Master Class' event that will be held at Kozue on Saturday, 8 April with the owner of Katsuyama Brewery, Mr. Heizo Isawa, will feature the following sake selection; AKATSUKI, DEN, KEN, GEN and LEI.
The first three sakes bring out the authentic beauty of Japanese sake. Katsuyama's premium award-winning sake, AKATSUKI, is brewed with the top class rice variety, Yamada Nishiki, from Hyogo Prefecture. DEN delivers an immaculately balanced umami with it's delicate flavor from the gentle rice. When pairing Japanese sake with food, KEN is the perfect choice in that you can continue to drink the sake throughout a dinner course.
The remaining two sakes; GEN and LEI are more modernized and bring light to the future of where sake is heading. The foundation of the brewery's sake making from over 300 years ago with the modern technology used now at the brewery, brings a rich and elegant sweet flavor to GEN and a powerful fruity flavor to LEI, which is made with the beloved rice of Miyagi prefecture, Hitomebore.
For those who drink Japanese sake regularly and for those who do not, I sincerely hope that our guests will come to appreciate it's appeal as much as I do through the sake pairing menu with western cuisine or from sake-infused cocktails during this upcoming promotion at Park Hyatt Tokyo.
Hitoshi Tanabe