Yasukazu Yokota
Uchina Breeze Cocktail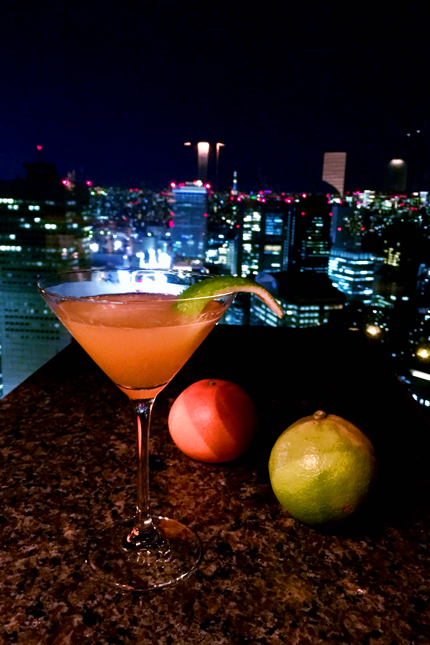 Greetings, I am Yasukazu Yokota, the Beverages Manager at Park Hyatt Tokyo. I would like to introduce my new cocktail creation, Uchina Breeze, that is now available at The Peak Lounge & Bar.
The word "uchina" means "Okinawan" in Okinawa. The word is used to describe the feeling of that even when it is cold, you can feel the warm breeze of Okinawa.
The base liquor of this drink is the famous Okinawan alcohol, danryu awamori, a favorite amongst Okinawan locals that is produced at Kamimura brewery. The robust flavor from the maturing process from the barrel brings the richness to this cocktail.
As a bartender, it is a pleasure to use the following ingredients to compliment the Okinawan alcohol. The first one is the bergamot orange from Aichi Prefecture. This is very special since it used to be only grown overseas, however, with the efforts of the farmers in Aichi it is now grown in Japan.
The cocktail is inspired by the image of a refreshing breeze and with the fresh scent of the bergamot, it truly produces that sensation to the drink. I am very proud to be able to introduce this product as it has gone through many years of trial and error to become available here in Japan.
The other ingredient that I would like to mention is the honey from Miyakojima. The beautiful Okinawan flowers that are used to produce this honey is the perfect, added touch that brings all the flavors together in this tropical drink.
Ingredients:
Danryu Awamori
Bergamot Orange from Aichi Prefecture
Setoka (Japanese sweet citrus fruit)
Honey from Miyakojima
Come and try this citrus flavored cocktail and taste the passion of the producers while experiencing "uchina" during this cold, winter season. I look forward to welcoming you to The Peak Lounge & Bar.