Thomas Angerer
Special New York Grill Knife from Gifu Prefecture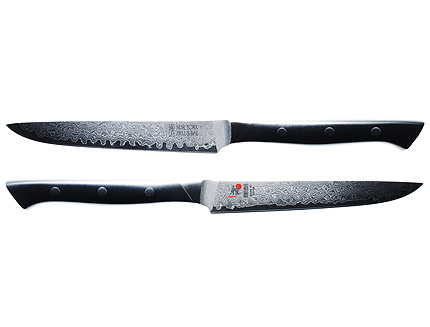 Thomas Angerer, Executive Chef
Greetings from Park Hyatt Tokyo!
I am the Executive Chef, Thomas Angerer. I would like to share with you all about a trip I took earlier this year to Seki in Gifu Prefecture, the famous region for 700 years of sword and knife making in Japan.
One of the first things I learned when I came to Japan is that "cutting is cooking" when preparing Japanese cuisine. A sharp knife is one of the most important tools in kitchen as the flavor profile can change depending on the way it is cut and sliced. When using a high quality Japanese kitchen knife, you are able to slice thinly and with precision. It is a perfect and clean cut and it does not rip the fibers of the produce.
Seki is one of the most important places for knife making in Japan as it is the birthplace of the finest artisans in the craft of sword making. Visiting Seki made me want to extend this experience to our guests and provide them with a top quality Japanese chef's knife at Park Hyatt Tokyo. After learning more about the knife making history in the area and experiencing firsthand how the knifes are produced, it made me think that we should create a steak knife for our signature restaurant, New York Grill.
Zwilling J.A. Henckels, one of the largest and oldest German knife manufacturers, Producing Miyabi Japanese chef knifes in Gifu. Together we have developed a customized 65 layered Japanese steel steak knife in a Damascus pattern. It is forged with handmade precision and has a unique sharpening style called Hombazuke.
We are excited to present this special knife and bringing together traditional Japanese craftsmanship to our guests at Park Hyatt Tokyo.  These special New York Grill knives are now being used at New York Grill & Bar and are also available for purchase at Delicatessen for 32,000 yen (including tax).