Staff
2017 Countdown Lounge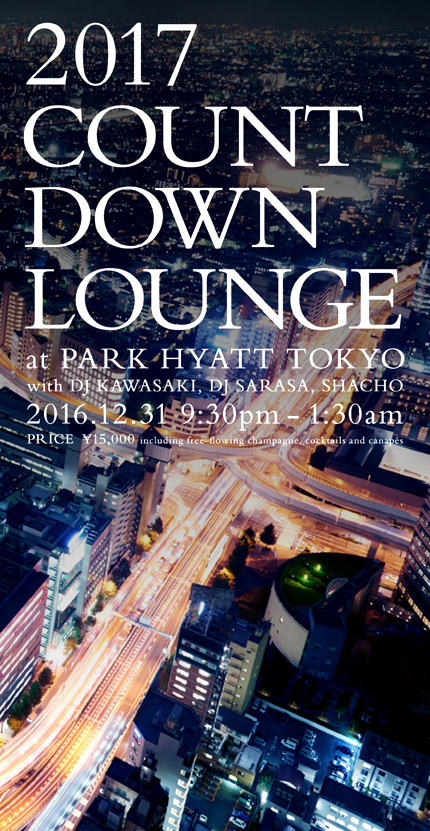 As we enter the month of December, the busy Tokyo streets are bustling with excitement for the end of year festivities. Have you made any plans on New Year's Eve?
Following the debut success of Countdown Lounge at Park Hyatt Tokyo last New Year's Eve, the event will take place again at The Peak Lounge & Bar with three of Japan's finest artists, DJ KAWASAKI, DJ SARASA and SHACHO from SOIL & "PIMP" SESSIONS.
One of the artists, DJ KAWASAKI, has kindly provided his track "Believe", featuring R&B/Soul songwriter and producer, Gordon Chambers, as the background music to the 2017 Countdown Lounge event site.
http://restaurants.tokyo.park.hyatt.co.jp/en/countdown.html

Please see DJ KAWASAKI's comment below.
The featured artist, Gordon Chambers is a Grammy-nominated American R&B/Soul singer/songwriter who has written for various legendary artists such as Beyonce and Chaka Khan.
In 2007, I had remixed his Grammy-nominated hit song "If You Love Me" and as a result, he ended up collaborating with me and recorded on my second album. This song "Believe" was released a little while ago however I thought it suits the luxurious atmosphere of Park Hyatt Tokyo. I hope you all enjoy this very special track that I have selected to promote the 2017 Countdown Lounge.
Come celebrate this New Year's Eve with free-flowing champagne, cocktails and elegant canapés while listening to live DJs and enjoy the view of glittering Tokyo city lights from the 41st atrium of Park Hyatt Tokyo.