Staff
Guest chef from Betony, NYC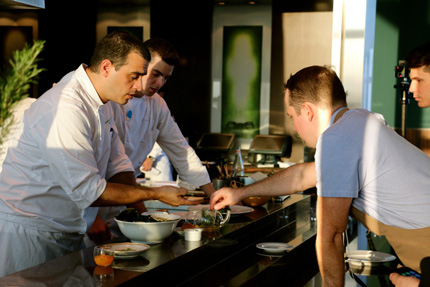 Greetings Tokyo!
I am the Executive Chef Bryce Shuman of Betony, in New York.
I am really excited to be here in Tokyo as it is my first time here in Japan.
It is overwhelming that there is so much going on here and I can feel the buzzing energy from even my walk today to Shinjuku station. There were so many restaurants upstairs, downstairs, and just everywhere in the station!
I am truly honored to be asked to do the guest chef promotion at New York Grill this year. It is especially special for me since I was preparing Chef Daniel Humm for his guest chef promotion trip to Park Hyatt Tokyo years ago when I was working at Eleven Madison Park. It is a tremendous honor to be asked separately now and Chef Humm is very proud of me.
I am looking forward to using Japanese ingredients in my menu during the promotion, in particular the seafood from Tsukiji fish market. I like to serve a canapé style item during the middle of the course as it changes the pace of a mundane course menu by adding an element of surprise. It also helps people to bond by reaching to the center of the table to share food. The canapé style dish I am planning to create for my menu at New York Grill will be little bites of fish, clams and shellfish arranged in seaweed that will be served in a vessel to keep it hot.
It is important to me for the Japanese diners at New York grill to understand my main philosophies of cooking. In America, I like to take familiar flavors and create a dish in a modern way that will excite them. I like to take humble ingredients, concentrate on its noble elements and reveal its luxurious quality in fine dining.
What is the most important thing to me is that I help create bonding moments at the table that perpetuate an unforgettable experience by finding a feeling of connection. The active reaching to the center of the table during a meal is the moment of family.
I look forward to seeing you at New York Grill from October 3rd until the 8th during my guest chef promotion.
Please click here for the detail of Betony's special dinner.
Bryce Shuman
Executive Chef of Betony