Tsuyoshi Sato
Winter Warmer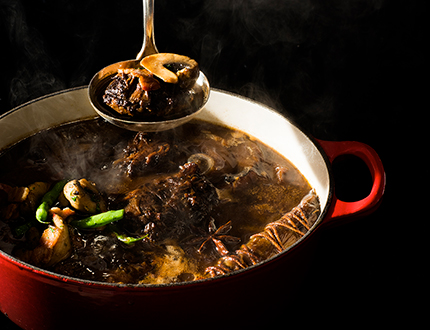 Greetings from Park Hyatt Tokyo!
As it is becoming a very cold winter here in Tokyo, at Girandole we are pleased to present our Winter Warmer dish, which is 4,500JPY (excluding tax and service charge) to help warm you up this season.
The dish that we are serving at the moment is the beef bourguignon, a popular family meal originating from the Burgandy region of France.
Please come and enjoy this filling comfort food with a delightful and subtle aroma of clove and anise that pairs perfectly with red wine.
For those who would like to make beef bourguignon at home, please see my recipe below:
Ingredients:
1 kg of beef chuck steak
1 bottle of red wine 
125cc of fond de veau
125g of onions
75g of carrots
74g of celery
1/4 of a whole garlic
1/4 of a pack of thyme
1 bay leaves
5 cloves
2 anise
1 small pear
Directions:
①Marinate all the ingredients besides the fond de veau with red wine.
②Separate the beef and vegetables in the red wine marinade, sprinkle them with salt, pepper and flour and then lightly brown them in the pan.
③Place the beef and vegetables in a pot with red wine and add in the herbs. Leave it on low heat for about an hour then pour in the fond de veau. Leave it again on low heat for another hour.
④Remove the beef and vegetables from the pot and add salt, pepper, and butter to the stock. You may also add mushrooms or cured meat, for a delicious touch.
There are only a limited number of Winter Warmer dishes that will be served and are therefore not printed on the menu. Please ask our staff which wine you should choose that will best complement the meal.
Thank you and I look forward to seeing you at Girandole this winter.