Julien Perrinet
Q&A with Executive Pastry Chef Julien Perrinet
Park Hyatt Tokyo recently welcomed Julien Perrinet as our newly-appointed Executive Pastry Chef. Originally from Brittany, France, his career has taken him all over the world, from bakeries and luxury hotels to some of the world's most well-known pastry shops. We sat down with Chef Julien to learn a bit more about who he is and what makes his creations uniquely his own.
Q1: Can you please tell us a bit about yourself?
A: Well, I am a very passionate and curious person, I enjoy life and try to always be kind and sweet. I always try to be in a good mood. I enjoy learning about the environment and culture of the places I live. I really love my job and I always try to be aware of what's around me to find inspiration for my next creation.
Q2: Do you feel your personality is reflected in your creations?
A: My pastries have to be generous but elegant, refined but simple. I believe those are also aspects of my personality.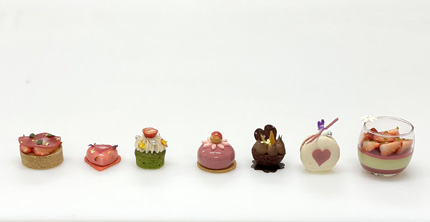 Q3: Why did you decide to become a pastry chef?
A: While I cannot say exactly when I decided to become a pastry chef, my parents have told me that I started talking about it when I was 11 years old. I used to cook with my mum, and I always wanted to take care of the dessert part.
I have always tried to push the limits by making the most elaborates cakes. I was fortunate enough to have lived near one of the best pastry schools in France, and I remember going to their open campus events every year. All of the teachers already knew me before I was old enough to start my culinary journey. I always wanted to become a pastry chef, but I never imagined that one day I would be working here in Japan.
Q4: How do you like living in Japan so far? What shocked or surprised you when you first moved to Tokyo?
A: I love it very much despite the fact that I just arrived two months ago and, given the current situation, I haven't been able to do very much yet. However, I had the chance to visit Japan on holiday before, so nothing really came as a surprise. I cannot wait to discover more.
After living in an Asian environment for the past 14 years, and having had the chance to visit Japan before, I was very happy to come back to this beautiful country. Now that I work in Japan, I have a totally different approach. The traditions and the culture are very strong here, and I am very glad to discover more and more about them every day.
Q5: Can you tell us a bit about your signature pastries?
A: This month, I am introducing a few of my favorite desserts. One of my signatures is the double cheese tart with fromage blanc and tonka beans. Another one is the citrus dacquoise, a very refreshing cake using fabulous Japanese citrus paired with a rich yuzu cream, all atop a classic hazelnut dacquoise.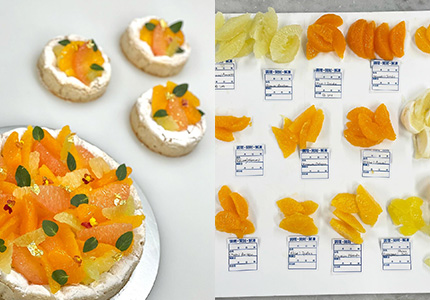 Q6: Do you have anything you would like to share with us about what will be available this spring at Pastry Boutique?
A: This year for the sakura season, I have prepared three creations:
The first one is my signature Sakura Lace (see description). Then, there's the 'Sakura Roll Cake,' which is a modern version of a Baumkuchen cake with cherry and vanilla flavors, as well as sakura green tea, and of course, the entirely edible chocolate sakura tree. Last, but not least, is the Sakura Saint-Honoré. Inspired by the classic Saint Honoré, it is a derivation of this famous French cake made with local Japanese flavors.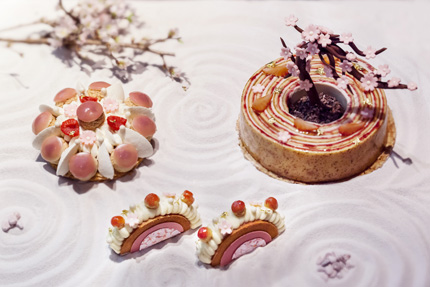 Q7: What are you most looking forward to as you embark on this new journey at Park Hyatt Tokyo?
A: I am very proud to be part of this team. Park Hyatt Tokyo is an iconic place with a strong reputation among hotels worldwide. I am here to help the hotel to be successful by guiding my team to deliver the best sweets and breads every day.
Q8: Do you have any final thoughts or a message that you would like to share?
A: I always keep this mindset: "People will be drawn to try the pastries if they look good, but they will come back if they taste good."
Hopefully, you were able to get a clearer image of Chef Julien's talents, who he is and his overall personality. As per his motto, he places great importance on both the presentation and designs of his creations, as well as how they taste, so our guests will keep coming back for more. Stay tuned for Chef Julien's signature pastries at Park Hyatt Tokyo!