Ronan Cadorel
On the discovery of Japan through the Tsukiji market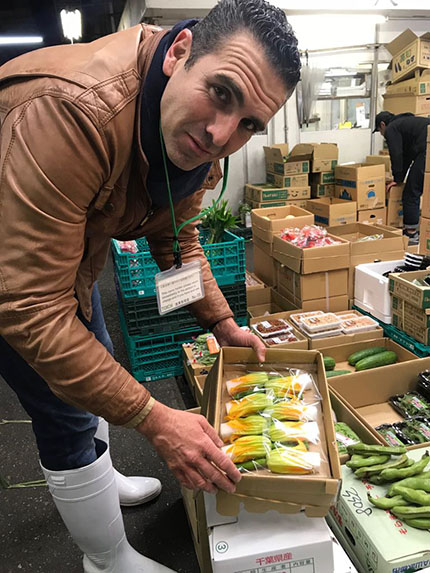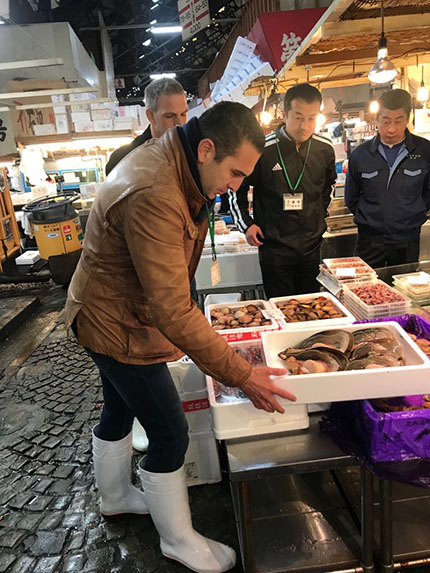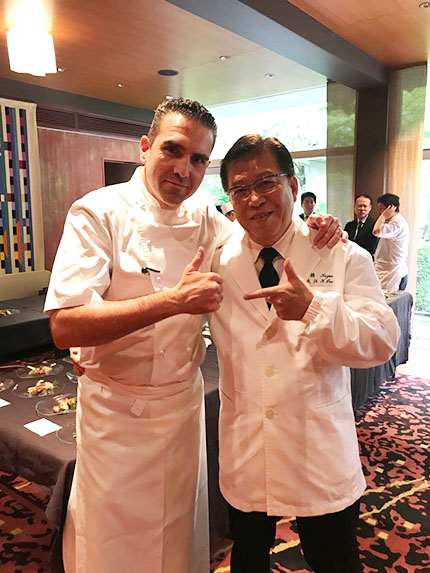 It's 4:30 in the morning and I'm excited about the idea of visiting the fish market in the heart of Tokyo called "Tsukiji market". It's an honor as a native from Brittany to go to Tsukiji since the products of the sea have always been a deep inspiration to me.
We arrive in a hangar and we put on long, white boots. It reminded me of when I would enjoy walking in boots through the fields and farms when I was a kid in my hometown.
The Materials Manager, Taguchi-san guided us through this incredible world which already amazes me. Thomas Angerer, whom I have replaced since the beginning of May, did me the honor of being there too. We walked through the streets avoiding the pallet trucks that fuse like comets as if time was of the essence.
Taguchi-san was attentive to my actions and took notice of what inspired me in spite of our language barrier. We communicated through our gestures and our eyes.
What a beautiful job we have! I realize how much cooking depends on the knowledge of our fishermen, our producers but also the treasures that abound our oceans.
I bend over as I have learned at the greatest restaurants, from chefs and stars from New York to Paris passing by Florence or Moscow, that we must be humble when you work with the products.
When I touch them, I think already of its taste, I imagine its texture, how could I sublimate it…
This question mesmerizes me. We are cooks and our quest for perfection begins with building through the work of producers, fishermen, farmers.
Silence reigns, we are each in our thoughts, and the visit continues.
How it is possible to reach this perfection? How it's possible to be so conscientious?
We are artisans and our hands sweat the passion that drives us to sublimate the richness of what the land and the sea gives us.
Through the fruit and vegetable market, I found zucchini flowers. They reminded me of my apprenticeship with Michelin stars Chef Jacques Maximin. He sublimated always. Sometimes the vision of a product transports you back in time and reminds you of your childhood, a moment of your life.
At one point, we tasted a few fruits from Miyazaki. I discovered the real taste of the fruit which had a taste of paradise, its delicate juice, its aromas transported me.
The kindness of producers and their love is palpable. We can see in their eyes how they like to share their knowledge, their love of the product and I felt close to them as if I knew them already. I come from the same family even if I am a foreigner … We are citizen fron the world and the love of the product and its perfection brings us closer.
When leaving, we met a producer of scallops and oysters. I did not resist to stop there to discover the quality of the products of Hokkaido.
I like the taste of raw tartar or carpaccio slightly seasoned. I like to marry them with products of the land because their alliance is exquisite such as with beetroot.
Since my arrival I have met passionate chefs whose talent is no longer a secret and they are so welcoming and so humble. I enjoy discovering them through their kitchen. Even if we do not communicate with the same language we can understand each other through our shared vision of cooking.
Some are also great artists, Ooe-san is one of them and I like to immerse myself in his cooking through his recipes.
I can't wait to start cooking with those products I've seen at the market at New York Grill with Steffan, at Girandole with Ichizuka-san, the Boutique and Peak Lounge with James our new Executive Pastry Chef and at events with Morita-san. I also cannot forget Akimaru-san at Delicatessen in collaboration with my Executive Sous-Chef Yoneda-san who is my right hand man.
I have such a great team and I love already Japan culture and products!!!