DELICATESSEN
Delicatessen at Home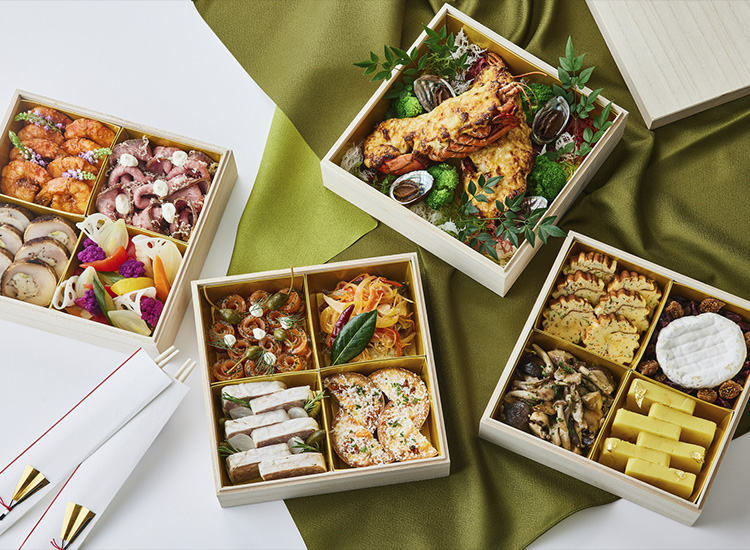 As another year draws to a close, settle into the new year in the comfort of your home with the flavors of Park Hyatt Tokyo. Our delicacies are inspired by Japanese and Western cuisine, ranging from roasted Japanese beef sirloin, pâté de campagne, Mackerel escabeche and quiche. Whether paired with wine, sake, or champagne, these treats are best when shared with family and friends.
Validity: From Saturday, December 30, 2023, to Wednesday, January 3, 2024
Reservations: Kindly reserve by 7:00 p.m on Monday, December 25.
Price: JPY 35,000 for three layers / JPY 50,000 for four layers
   *Both meals serve three to four people.
   *All prices are inclusive of tax.
Menu contents:
・Roasted Japanese beef sirloin, horseradish cream
・Sustinable shrimp, Americaine
・Roasted spicy Daisen chicken, vegetable pickles
・Horse mackerel escabeche
・Dill marinated sustinable atlantic salmon, caperberry, sour cream
・Paté de campagne, cornichon
・Rolled omelet, green onion, shiitake mushroom
・Snow crab quiche
・Camembert di bufala, dried fruits
・Sweet chestnut paste terrine
・Sautéed mixed mushrooms, sherry vinaigrette, hazelnut
The four-layer box contains the following:
・Lobster thermidor
・Braised Ezo abalone
For reservations and inquiries: Delicatessen, 1/F Park Hyatt Tokyo TEL: 03-5323-3635*Available for reservation online.