The Peak Lounge at Park Hyatt Tokyo Presents
"Natsu Matsuri" Afternoon Tea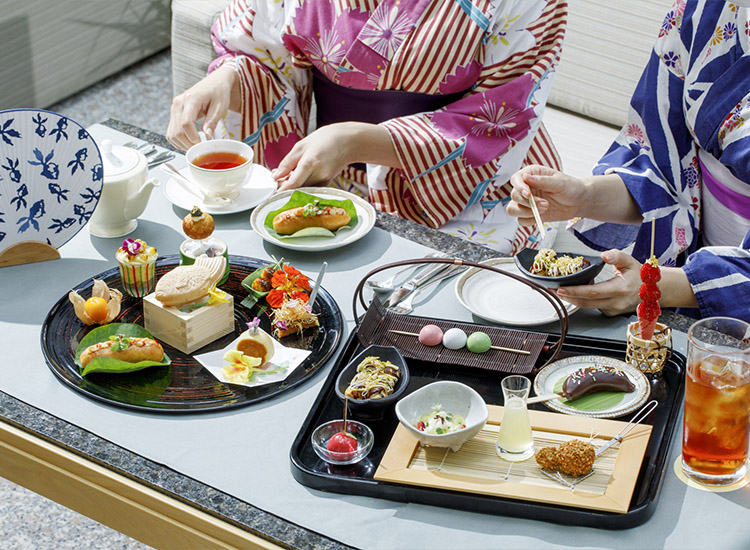 Tokyo, Japan, July 4 2022 — The Peak Lounge, located on the 41st floor of Park Hyatt Tokyo (General Manager: Hervé Mazella, Address: 3-7-1-2, Nishi-Shinjuku, Shinjuku-ku, Tokyo), is pleased to present an exquisite afternoon tea with a twist to celebrate the Japanese-style summer festival until Sunday, September 4.
Much loved summer festivals in Japan, called "Natsu Matsuri," are held throughout the country as local traditions. Each ritual is a unique reflection of the history and culture of the area and is often intended to memorialize the gods and harvest. This summer, Executive Pastry Chef Julien Perrinet, and his team celebrate "Natsu Matsuri" with a culinary creation that reflects his fascination with Japanese culture and the excitement of a street event. This special afternoon tea is curated to resemble local food designed to captivate you with sweet luscious delicacies mixed with savory flavors set to delight both your eyes and your palate. We hope you will join us at this unique Afternoon Tea wearing a beautiful yukata (summer kimono).
Validity: Until Sunday, September 4, 2022
Time: 12:00 noon – 5:00 p.m.
Price: JPY 9,900 per person (inclusive of tax and subject to a service charge)
*Limited to only 25 persons a day.
*Three days' advance reservation is required.