Delicatessen
Delicatessen At Home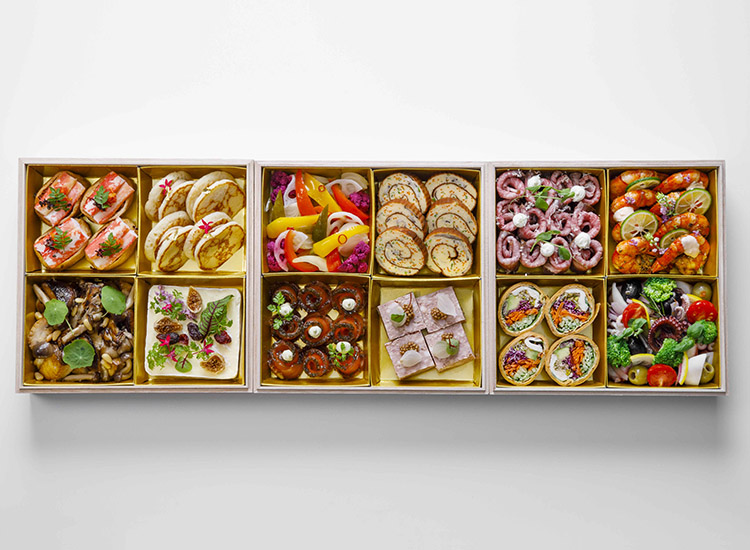 As another year draws to a close, settle into the New Year with the flavors of Park Hyatt Tokyo in the comfort of home. Delicacies inspired by both Japanese and Western cuisine ranging from roasted Japanese beef sirloin and grilled Cajun ASC shrimp to Inari sushi topped with salmon roe will tickle your palate. French cheese and dried fruits are just some of the delicacies this bountiful set has to offer. Whether paired with wine, sake, or champagne, the variety offered in this selection is best when shared with family and friends.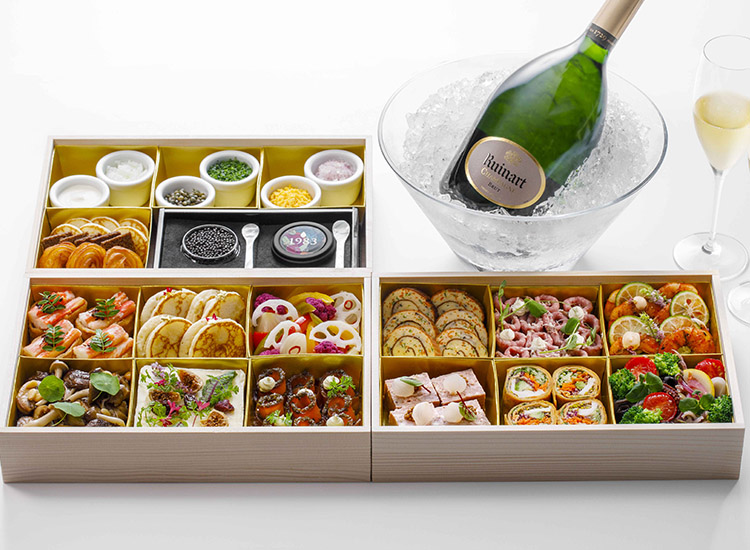 Menu contents:
Roasted Japanese Beef Sirloin, Horseradish
Pâté de Campagne, Whole Grain Mustard, Pearl Onion
Brinis, French Duck Foie Gras Confit, Fig Jam
Grilled Cajun ASC Shrimp, Sudachi
Salted Kelp Marinated ASC Atlantic Salmon, Wasabi Cream
Octopus, Spear Squid, Herbs, Tomato, Olives, Thyme
Rolled Omelet, Green Onion, Shiitake Mushroom, Carrot
Colorful Vegetable Pickles
Vegetable Tortilla, Smoked Chicken Breast
Sautéed Mushrooms, White Balsamic, Pine Nuts
French Cheese "Carré de Bretagne"
Black Rice Inari Sushi, Zuwai Crab, Japanese Pickles
Validity: From Thursday, December 30, 2021, to Monday, January 3, 2022
Price:
・"Delicatessen at Home" includes 12 different types of delicacies for JPY 32,400 (serves 3 to 4 people).
・"Delicatessen at Home Celebration in Style" includes 12 different types of delicacies paired with Miyazaki Caviar (20g x 2) and a bottle of 'R' de Ruinart Champagne for JPY 77,000 (serves 3 to 4 people).
*We kindly ask that you reserve 10 days in advance.
*We recommend placing an order in advance as items may sell out due to limited quantities.
*"Delicatessen At Home" can be reserved by telephone or on our website.
For reservations and inquiries: Delicatessen, 1/F Park Hyatt Tokyo TEL: 03-5323-3635 (11:00 a.m. to 7:00 p.m.)
*All prices are inclusive of tax.
*Deliveries within Tokyo's 23 wards can be made for an additional delivery fee. Please indicate your desired delivery time.