Pastry Boutique
Christmas Cakes / Holiday Selection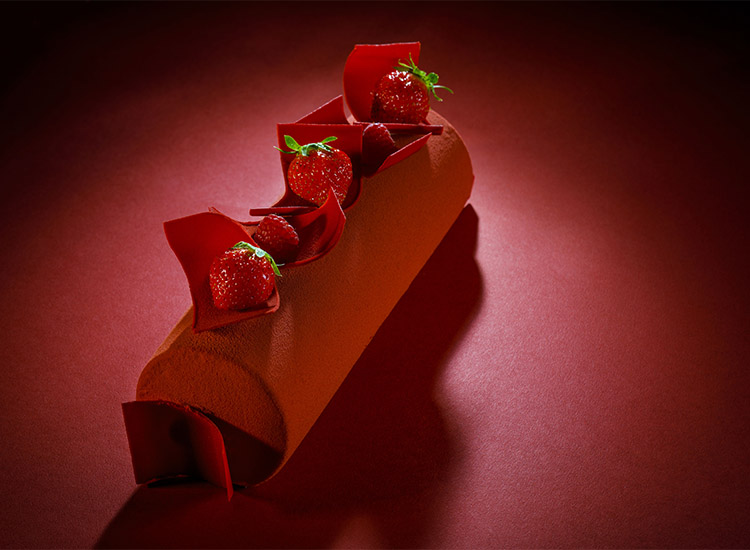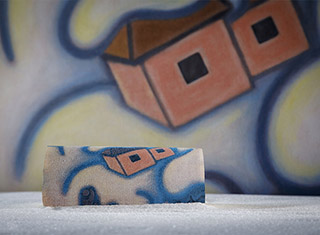 Bûche Winter  JPY 6,500 (16cm)
For the holiday season, artwork by famed artist Yoshitaka Echizenya which adorns the iconic library at Park Hyatt Tokyo, will be replaced with the winter version of the seasonal series. Our tiramisu-inspired Bûche de Noël cake — deliciously made with mascarpone cheese cream, coffee crumble, espresso jelly, and coffee syrup will represent the artwork. A symphony of pleasure for your taste buds.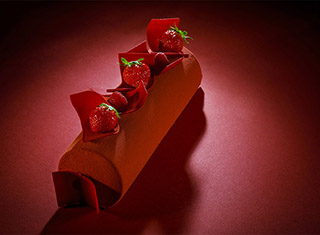 Bûche Velours    JPY 7,800 (25cm)
A sweet Bûche confection, this Velours Yule log is a perfect dessert to celebrate the Christmas holiday season. Thoughtfully made with black tea infused strawberry mousse, Amaou strawberry jam, pistachio dacquoise, vanilla and tonka bean cream, and then topped with a raspberry chocolate that reminds us of a Santa Claus's gift box. The velvety burgundy look is just a hint of the smooth, rich texture and subtle light taste. Dessert lovers should be warned, they may be tempted to eat the entire cake!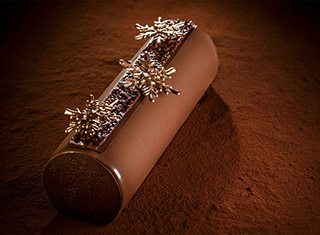 Bûche Elegance  JPY 7,000 (25cm)
Resembling a miniature Yule log, Bûche Elegance is made from delicious dark chocolate mousse, Dulcey chocolate crémeux, praliné crunch and praliné cream, and is decorated with gold snowflakes. It's an excellent way to tell your senses that Christmas is coming.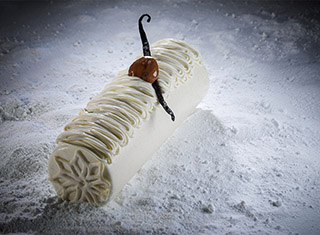 Bûche Flocon  JPY 7,000 (25cm)
Our white Bûche de Noël is made with vanilla fromage blanc mousse, chestnut cream, and to balance the rich heavy chestnuts, our chef added texture by using pear jam and Christmas spices. The white chocolate looks like flakes of snow on a winter's eve and it melt in your mouth just as quickly. Bûche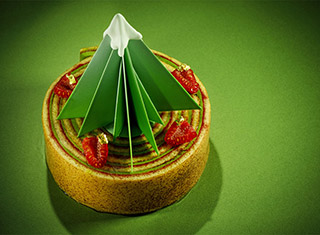 Le Sapin  JPY 5,200 (14cm)
Our holiday tree dessert is a beautifully created modern style Baumkuchen with subtle bitter matcha mousse and raspberry jam. Made to look like a traditional chocolate tree decoration, there is no doubt you will be tempted to hang it on your tree.
Christmas Amaou Strawberry Shortcake  JPY 5,200 (15cm)
Carefully selected ingredients are used in this original recipe with soft sponge and layers of fresh cream and strawberries, making this classic shortcake the most popular choice since our opening in 1994.
Pastry Boutique "CHRISTMAS CAKES"
Available for pickup: From Friday, December 17 to Saturday, December 25, 2021
Reservations: From Monday, October 11, 2021
*We kindly ask that you reserve 2 days in advance.
For reservations and inquiries: Pastry Boutique, 2/F Park Hyatt Tokyo
TEL: 03-5323-3462 (11:00 a.m. to 7:00 p.m.)
*Christmas cakes can be reserved by telephone or on our website.
*All prices are inclusive of tax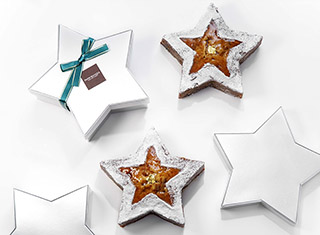 Christmas Star  JPY 3,800 (12cm)
Think Christmas cake and typically a dense fruitcake comes to mind. Alternatively, try our Christmas Star cake soaked in ginger syrup, rum, and brandy and seasoned with a variety of tasty spices including cinnamon, star anise, and other secret ingredients. The dough is kneaded with orange and lemon peel, dried apple, and raisins. A true culinary masterpiece.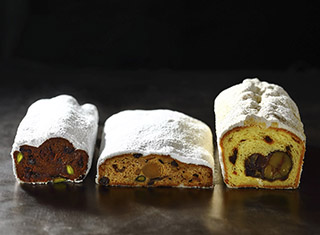 Park Hyatt Tokyo Stollen
Your search for the most authentic Stollen recipe has ended! Savor the popular European Stollen with the selection of special holiday flavors; Chocolate, Christmas (assorted spices), and Marron (chestnut).
(From left to right)
・Chocolate Stollen  JPY 3,900 (18.5cm x 5.5cm)
・Christmas Stollen  JPY 3,500 (19.5cm x 12.5cm)
・Marron Stollen  JPY 3,900 (18.5cm x 7.5cm)
*Christmas Stollen is also available in mini size (JPY 2,600, 15.5cm x 9.5cm).
Christmas Treat  JPY 7,560
From gingerbread spices to chocolate brownies, the cookies in this set offer a wide variety of flavors. We recommend this set as a gift or enjoy it with your loved ones this holiday season.
【Ginger Bread Star / Chia Seed Cookie / Pink Praliné Cookie / Chocolate Brownie Cookie / Berry Berry Jam / Mini Stollen】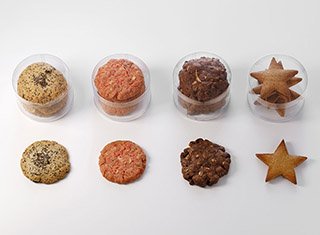 4 Types of Cookies  JPY 950 each
【 Ginger Bread Star / Chia Seed Cookie / Pink Praliné Cookie /
Chocolate Brownie Cookie】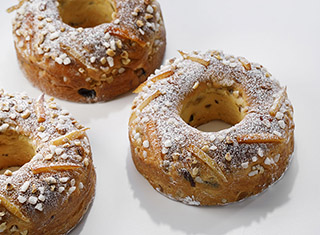 Brioche de Noël  JPY 1,200
A traditional Alsatian pastry. This wreath-shaped brioche is baked with dried fruits such as orange peel and almonds.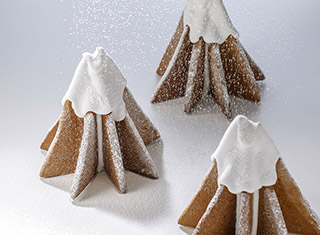 Ginger Bread Tree  JPY 2,500
Spiced gingerbread cookies in the shape of a tree, topped with pure white marzipan to resemble snow. These cookies can be placed in the center of a table as a festive decoration for the Christmas season.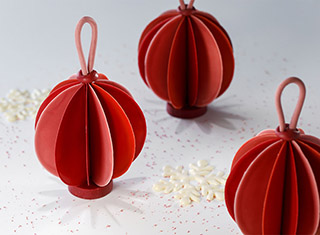 Pink Chocolate Ornament  JPY 3,000
A beautiful gradation of strawberry, raspberry, and ruby chocolates is used to create a cute ornament for the Christmas tree. This beautiful and tasty ornament will add a touch of color to your table.
Pastry Boutique "HOLIDAY SELECTION"
Validity: From Monday, November 1 to Saturday, December 25, 2021
For reservations and inquiries: Pastry Boutique, 2/F Park Hyatt Tokyo
TEL: 03-5323-3462 (11:00 a.m. to 7:00 p.m.)
*All prices are inclusive of tax.
*Except for some areas, we also offer shipping via courier (shipping fee not included).