Autumn Delicacies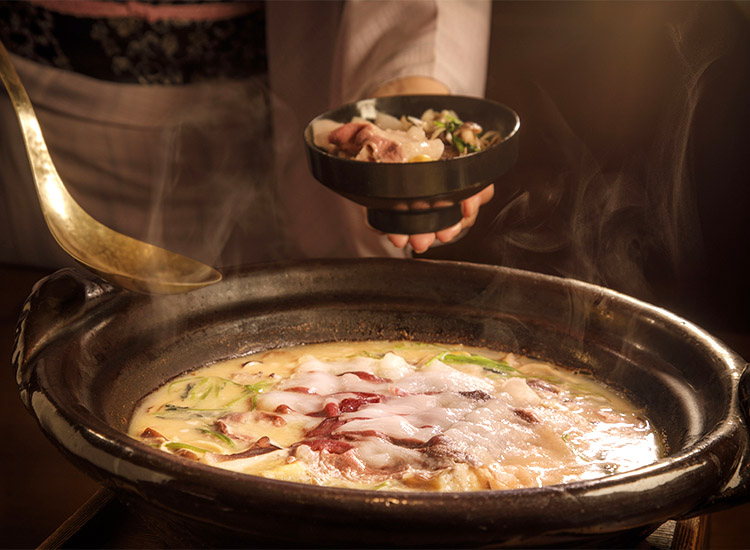 At Kozue, Chef Yoshida offers an autumnal equinox menu that focuses on rustic food, inspired by mountains and sustainable practices. Chef works with carefully identified local suppliers to ensure a sustainable ecosystem for years to come. Meals are carefully created using thoughtfully selected ingredients. A rich miso-flavored hotpot of wild boar loin which is fresh, rich in protein, and has less fat than pork, wild mushrooms, ginkgo nuts, and vegetables such as "Jingoemon imo" taro. All of which have been cultivated as an heirloom in one family for more than 400 years.
A unique experience for your palate and dining pleasure.
Validity: From Tuesday, October 5 to Monday, November 8, 2021
Time: Lunch from 12:00 noon to 2:30 p.m. (Last order)
Dinner from 5:00 p.m. to 8:00 p.m. (Last order 7:00 p.m.) on Wednesdays to Sundays, and Holidays
Price: Lunch course at ¥11,000, dinner course at ¥16,500
(Inclusive of tax and subject to service charge)
* You can make a reservation from here.
For reservation and inquiries: Kozue, 40/F Park Hyatt Tokyo
TEL 03-5323-3460
*The above information is subject to change without notice.
The latest information regarding our restaurants, bars, and shops will be available on our website below:
https://restaurants.tokyo.park.hyatt.co.jp/en/