ZEN Garden Afternoon Tea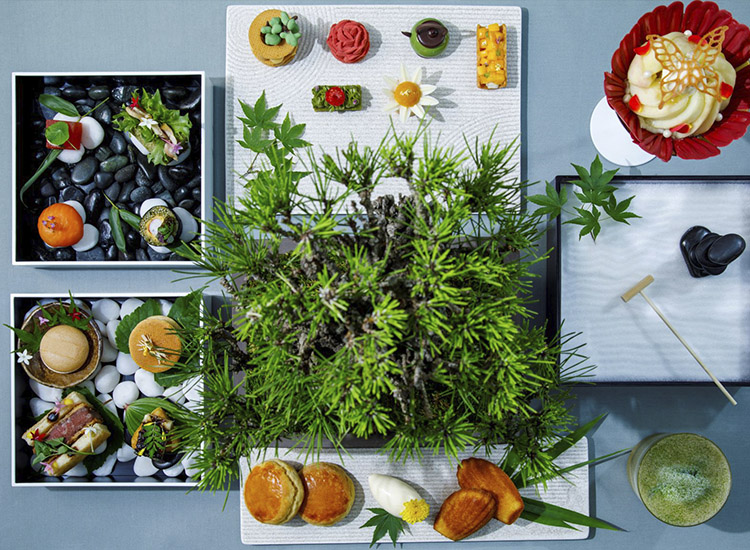 The Peak Lounge is proud to present an exquisite collection of French delicacies with a Japanese twist as part of our ZEN Garden Afternoon Tea menu until Tuesday, August 31, 2021.
Featuring the culinary creations of Executive Pastry Chef Julien Perrinet, the ZEN Garden Afternoon Tea induces a sense of peace and calm, where ingredients are carefully sourced and curated to ensure freshness and promote well-being.
The events of the past sixteen months have allowed us to view our lives from a new perspective − to appreciate love, health, happiness and friendship. The ZEN Garden Afternoon Tea at The Peak Lounge provides a perfect venue and ambience to celebrate life.
Chef Julien, with a fascination for Japanese culture, arrived at Park Hyatt Tokyo in 2020. The chef's menu reflects his international perspective combined with the peaceful qualities of a Japanese Zen garden, along with carefully selected Japanese-inspired chinaware to accentuate the dishes. The Zen garden menu will fascinate you with a savory plate including: watermelon compote with pickled plum cream cheese & sea grapes; temari sushi with ASC salmon; and monaka with sustainable seabass tartare with wasabi. For your sweet tooth, the menu also includes a wide selection of luscious desserts such as "Bonsai Tree" made with lemon cream, praline crémeux and Parmesan sablé, and "Momo Flower" parfait using peach, vanilla ice cream and thyme jelly, to name a few.
The Peak Lounge serves more than 30 beverages to accompany the ZEN Garden Afternoon Tea, including Yamato-cha, the high-quality green tea that is harvested exclusively for Park Hyatt Tokyo, and a black tea from Makaibari Tea Estate in India. The curated herbal-tea blends are formulated with the intention to create a quiet space and invite positive energies into your life.
Enjoy Chef Julien's exquisite creations and rediscover the charm of Japan with Park Hyatt Tokyo's ZEN Garden Afternoon Tea in the sky at The Peak Lounge until Tuesday, August 31, 2021.
Validity: Until Tuesday, August 31, 2021
Time: 12:00 noon to 5:00 p.m.
Price: ¥9,900 per person (inclusive of tax and subject to service charge)
*Limited to only 16 persons a day.
*3 days advanced reservation is required.