Delicatessen
La Galette des Rois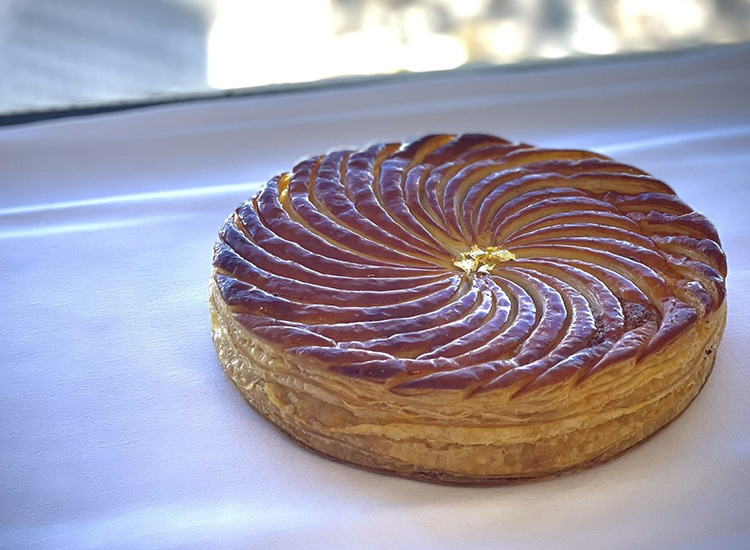 From New Year's Day until Sunday, January 31, Delicatessen will offer two different varieties of Galette des Rois, courtesy of our newly-appointed French Executive Pastry Chef, Julien Perrinet.
This French New Year's Tradition originates over 2000 years ago, where on the evening of December 25, the three kings (known as 'les rois mages') observed an unusually bright shining star in the night sky. They knew that this signified the birth of Jesus Christ. The three kings immediately began their long journey to Bethlehem, arriving on January 6, the day that is currently known as the day of "Epiphany", or "Three Kings' Day".
Made with puff pastry and an almond cream filling known as 'frangipane' the pie contains a small porcelain figurine (or sometimes a small bean or nut) known as a 'feve'. Galette des Rois is typically eaten on the first Sunday of the New Year.
Chef Julien's Recommendation:
Perhaps the most fun part of eating Galette des Rois is the traditional game associated with this treat. In this game, the youngest person must hide under the table, while the oldest is responsible for cutting the pie. The person hiding under the table must specify which slice to give people by saying someone's name while the oldest is pointing at a slice. The person who receives the slice with the 'feve' hidden inside becomes king for the day and will receive good luck in the year to come.
Period: Friday, January 1 to Sunday, January 31, 2021
Price:
Galette des Rois frangipane Originale 2,600 yen (16 cm)
Galette des Rois Pommes et Noisettes 2,800 yen (16 cm) *All prices are exclusive of tax.
For reservations and inquiries: Delicatessen 03-5323-3462 (11:00 a.m. to 6:00 p.m.)
*Reservations available online.