Master's of Food & Wine 2020: Hokkaido Lamb at New York Grill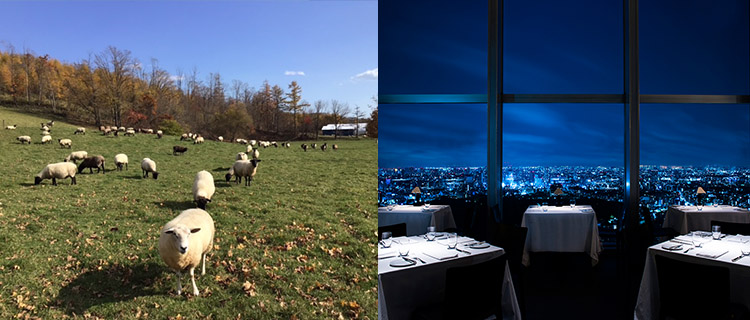 Park Hyatt Tokyo is excited to announce this year's Masters of Food & Wine event featuring lamb from Japan's northernmost island of Hokkaido. Masters of Food & Wine is a culinary and beverage experience that is hosted at Park Hyatt hotels where guests are able to engage and learn from specialists in their field.
 
This installment of Masters of Food & Wine will take place from Monday, November 30 to Thursday, December 17, 2020 with a special menu available at New York Grill. As a specialist in sheep husbandry, Mr. Shingo Sakai will join us as guest of honor for our special one-night-only dinner, held on Sunday, November 29, 2020 as a part of this event.
Only a limited amount of all lamb consumed in Japan is domestically sourced and there are few restaurants that offer it. This is, in part, due to the fact that the vast majority of lamb available in Japan is imported from overseas. In a rare treat, New York Grill will be offering a special dinner featuring lamb from Hokkaido, home of one of the country's most well-known and highly regarded sheep farmers, Mr. Shingo Sakai. Currently running his own sheep farm in Shiranuka, Hokkaido, Mr. Sakai personally oversees every aspect of raising his herd, placing an emphasis on ensuring the sheep are raised in an optimal environment. As Mr. Sakai puts it himself, "It is not just about producing good meat, but raising healthy mother sheep is important. This is the way that we humbly raise them". Everything, even down to their diet, is carefully monitored. The sheep are given a feed made from naturally derived ingredients such as soy, domestically-sourced wheat, beet pulp, and natto. These sheep then nurse their own young, keeping them nourished and healthy. Mr. Sakai ensures his sheep live healthy lives from the time they are born. The result is tender lamb meat with a fresh, and somewhat sweet taste.
Chef Paul has also prepared a menu highlighting Mr. Sakai's lamb, where for a limited time only, guests will be able to experience unique and flavorful dishes as they savor this rare delicacy prepared in New York Grill's signature style. Slow cooked lamb shoulder, marinated lamb leg, lamb rump pastrami, and a lamb saddle ballotine are just some of the unique and creative ways that our Chef de Cuisine has incorporated Mr. Sakai's lamb into the menu for the evening of November 29, 2020. In addition, we have invited Mr. Sakai to share his passion with our guests on this occasion as a part of our Masters of Food and Wine series.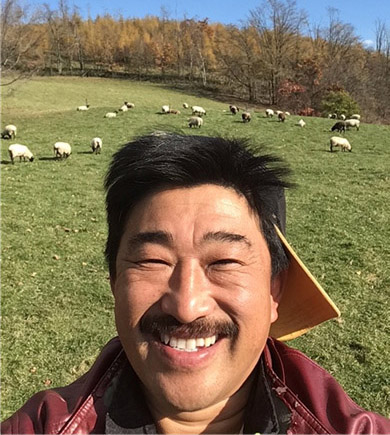 <Masters of Food & Wine 2020 Special Dinner>
Date: Sunday, November 29, 2020
Time: Reception opens from 6:00 p.m., and dinner starts from 6:30 p.m.
Venue: New York Grill, 52F
Price: 40,000 yen per person (exclusive of service charge and tax)
*Includes a 5-course dinner set with a glass of champagne and two different wine pairings.
Special Guest:
Mr. Shingo Sakai
Joining us as the man of the hour, Mr. Sakai will share his story. His passion has led him from the plains of Mongolia to competing in an international sheep shearing competition in France, to becoming one of the most distinguished in his field. We look forward to welcoming him.
 
New York Grill will also feature our Masters of Food & Wine 2020 Special Menu that will be available for a few weeks following this event.
<Masters of Food & Wine 2020 Special Menu>
Period: Monday, November 30 to Thursday, December 17, 2020
Time: Dinner starts from 5:00 p.m. to 11:00 p.m. (Last order 9:30 p.m. for food and 10:30 p.m. for drinks)
Price: 18,000 yen for the four-course dinner menu and 21,000 yen for the five-course dinner menu (exclusive of service charge and tax)
For reservations and inquiries, please contact New York Grill TEL 03-5323-3458
*The safety and wellbeing of our guests is our top priority. In response to COVID-19, we have introduced enhanced measures for guests' safety and peace of mind. They include:
・ Assurance of food safety through our ISO 22000: 2018 certification, a comprehensive and independently audited food safety management system
・ Sanitization of tables, chairs, condiment holders and menus before seating guests
・ Use of masks by all associates when preparing meals and plating dishes
・ Alcohol wipes for guests' use