Delicatessen
Picnic Basket Due to high demand, we will extend the sale of our Picnic Basket for a longer period.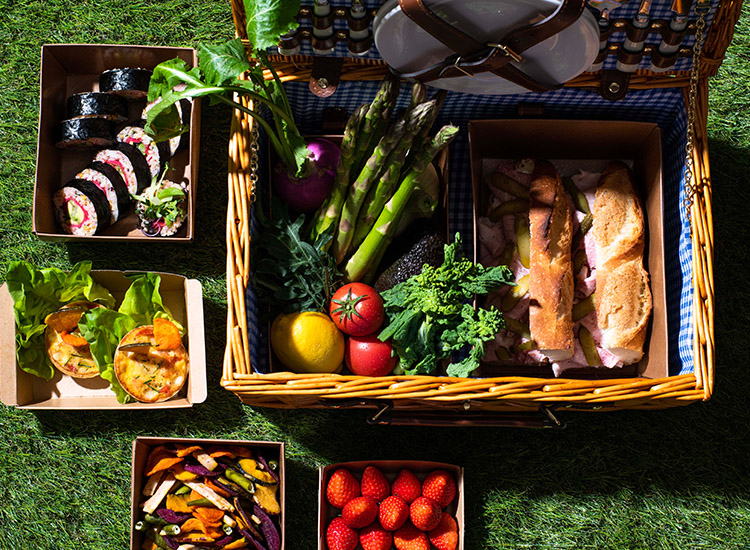 With the spring time hanami season approaching, Delicatessen is excited to present a very special lunch basket offering for upcoming outings and home parties. The picnic lunch set includes sandwiches, salad, sustainable Atlantic salmon quiche, home-made vegetable chips, fruits and a bottle of wine, all prepared inside a delightful rattan basket. A perfect lunch set-up for the hanami season.
Contents (For 2 people):
・Rattan picnic basket
・Baguette sandwich with jumbon blanc ham and home-made fermented butter
・Green salad with spring vegetables and lemon salt and chia seed dressing
・Quiche with sustainable Atlantic salmon, cherry tomotoes, onion and provolone cheese
・Vegetable deli roll with radish, cucumber, celery, avocado and sprouts
・Vegetable chips
・Seasonal fruits
・Bottle of wine (750 ml) *Choice of sparkling, white and red.
・Paper plates and cutlery
Time: 11:00 a.m. until 7.00 p.m.
Price: 12,000 yen for takeaway 
    *The price is inclusive of tax.
    *Please make a reservation at least 2 days before the pick-up date.
    *Delivery can be arranged by courier within the 23 wards of Tokyo. Charges will apply.
    *The exact extension date is not confirmed.
For inquiries, please contact Delicatessen, 1/F: +81 3 5323 3635.