MASTERS OF FOOD & WINE: KYUSHU WINE PROMOTION AT KOZUE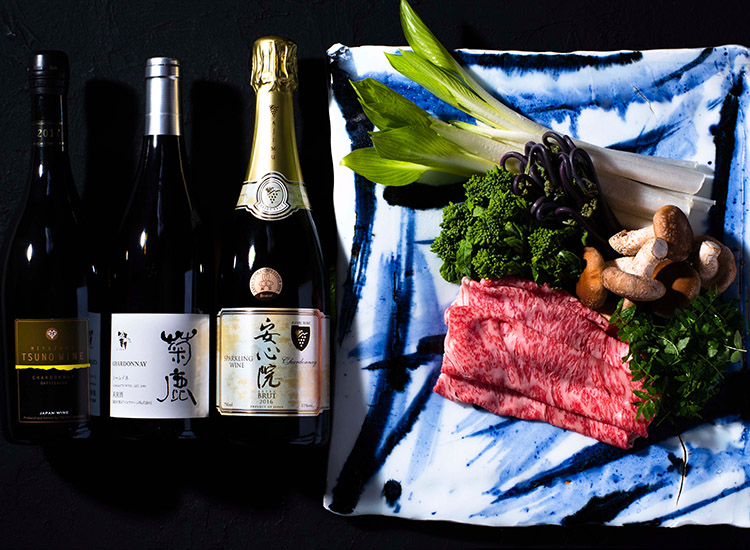 Park Hyatt Tokyo is excited to announce this year's first Masters of Food & Wine event featuring Japanese wines from the Kyushu region at our signature Japanese restaurant, Kozue.
Masters of Food & Wine is a seasonal culinary and beverage event that is hosted at Park Hyatt hotels where local residents and visiting connoisseurs are able to engage with our award-winning chefs, sommeliers, and specialists.
Kyushu is home to some of Japan's prestigious wineries and during a recent culinary trip there, Chef de Cuisine, Chef Kenichiro Ooe, personally selected local specialties to pair with top quality wines from Tsuno, Kumamoto and Ajimu wineries.
Guests will also have an opportunity to meet with representatives from Tsuno, Kumamoto and Ajimu wineries for a very special wine dinner on Sunday, 17 March, who will speak on the true essence of their wine and terroir.
Enjoy an exclusive Japanese dining experience and savor the seasonal delicacies and wines of Kyushu at Kozue this spring.
Period: Monday, 18 March to Tuesday, 9 April 2019
Time: Lunch 11:30 a.m. to 2:30 p.m. (L.O. 2:30 p.m.)
    Dinner 5:30 p.m. to 9:30 p.m. (L.O. 9 p.m./A la carte 9:30 p.m.)
Price: Lunch menu from 4,800 yen
    Dinner menu from 13,000 yen
    Glass of wine from 1,900 yen, Wine bottle from 9,500 yen
A la carte selections are also available during dinner time.
(All prices are subject to tax and service charge)
< Special Wine Dinner >
Date: Sunday, 17 March Open 6:00 p.m. Start 6:30 p.m.
Price: ¥23,000 per person for dinner course and beverages (exclusive of tax and service charge).
Special Guests:
Mr. Seiji Akao, President of Tsuno Wine Factory (Miyazaki Prefecture)
Surrounded by the Osuzu mountains, Tsuno winery has been ranked 1st and 2nd place in the world wine encyclopedia, Wine Report.
Mr. Atsushi Nishimura, Director of Productions of Kumamoto Winery (Kumamoto Prefecture)
Located in the Aso mountain, this winery has received many accolades. In particular, their barrel fermented "Kikuka Night Harvest Chardonnay 2003", received the gold medal at the Japan Wine Competition. This year marks their 20th year in business.
Mr. Koji Furuya, Factory Head of Ajimu Budoushu Koubou (Oita Prefecture)
Known for their grape wine harvest in West Japan, this winery has received 6 gold medals at the Japan Wine Competition.
For inquires and reservation, please contact Kozue 40/F: Tel: +81 3 5323 3460