Kiyoshi Utsumi
Kiyoshi Utsumi
EXECUTIVE PASTRY CHEF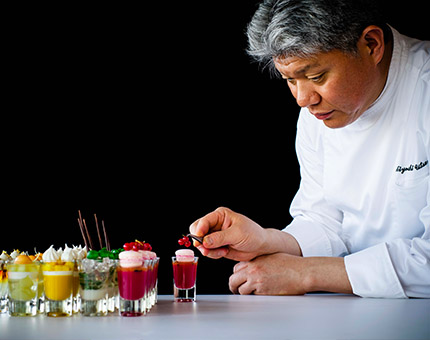 Greetings from Park Hyatt Tokyo, I am Kiyoshi Utsumi. I have been the Executive Pastry Chef here since April this year and I oversee the hotel's patisserie and confection offerings including the seasonal desserts of the Pastry Boutique.
I would like to share with you a little bit about my background. I received my culinary degree at Machida College of Culinary Art, Enomoto Gakuen in Tokyo and worked in several pastry shops and boutique hotels including Seiyo Ginza. When I was 26 years old, in order to further my patisserie skills, I moved to Europe and trained at various pastry shops in Luxembourg, France and Belgium. During this time, I competed at the 62nd and 63rd Arpajion Culinary Competition in Paris and shortly after, became a Chef de Patissier at Le Cordon Bleu Tokyo and taught the intermediate class for confectionary making.
At 32 years old, I first joined the Hyatt group as Pastry Chef at Grand Hyatt Fukuoka. I have also worked in China for 16 years as Pastry Chef at Grand Hyatt Shanghai, Park Hyatt Beijing and Grand Hyatt Shenzhen. In 2017, I returned to Tokyo to become Executive Pastry Chef at Hilton Tokyo, Odaiba before joining Park Hyatt Tokyo this year.
I am very excited about working at this very special property and I welcome you all to try my creations during Peak Lounge's special summer promotion, Afternoon Temptation from this June.
Enjoy a variety sweets such as plum and cherry cream cake, guava mouse and desserts inspired by the perfect summer drinks such as mojito and lemonade, all perfect flavors to savor on a hot day!
I look forward to seeing you all at Park Hyatt Tokyo soon.