Kozue
Rakugo in English with Shinoharu Tatekawa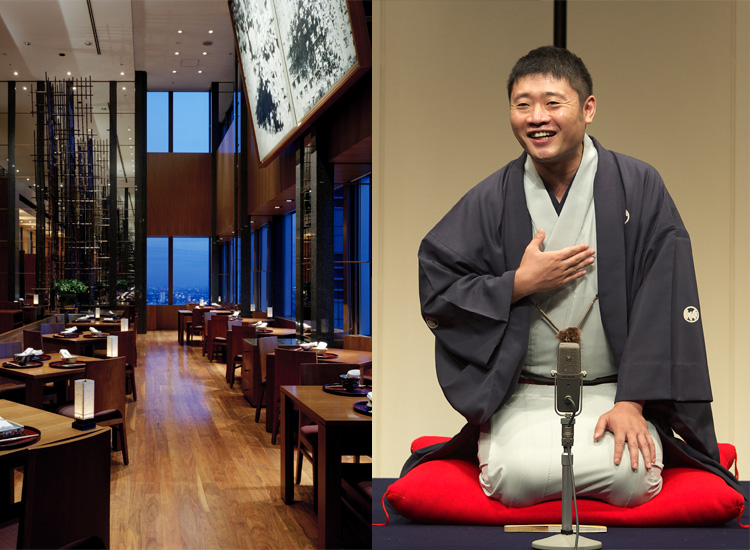 Kozue presents a very special English Rakugo experience this autumn with famed, bilingual storyteller, Shinoharu Tatekawa. Rakugo is a form of Japanese traditional comical storytelling that is dated back from 300 years ago, where a single performer sits on a stage and acts out all of the characters and the different scenes in the story. Shinoharu Tatekawa has made this Japanese cultural entertainment accessible to English speakers and is known to tell both traditional and original stories in both Japanese and English.
We welcome you to experience an original Japanese vaudeville narrative performed in English followed by an early dinner featuring a variety of Japanese seasonal delicacies prepared by Chef de Cuisine Kenichiro Ooe at Kozue.
Date: Monday, 18 September 2017
Time: 3 p.m. (Doors open at 2:30 p.m.)
Price: 7,500 yen per person, subject to tax and service charge
*Includes a special pre-dinner and vaudeville show.
For inquires and reservation, please contact Kozue at 03 5323 3460.
About Shinoharu Tatekawa:
Lived in New York from when he was 8 years old and for 7 years. He graduated from Yale University and worked in Mitsui & Co. Ltd. for 3 years before changing his career to become a professional Rakugo storyteller. His change in profession was inspired by seeing a performance by Rakugo legend, Shinosuke Tatekawa and he became his disciple. After 8 and a half years of training, he was promoted to "Futatsume", which enabled him to be an independent Rakugo storyteller. He has since then published 3 books including an English rakugo CD book and tours around Japan as well as performing in Singapore twice a year.